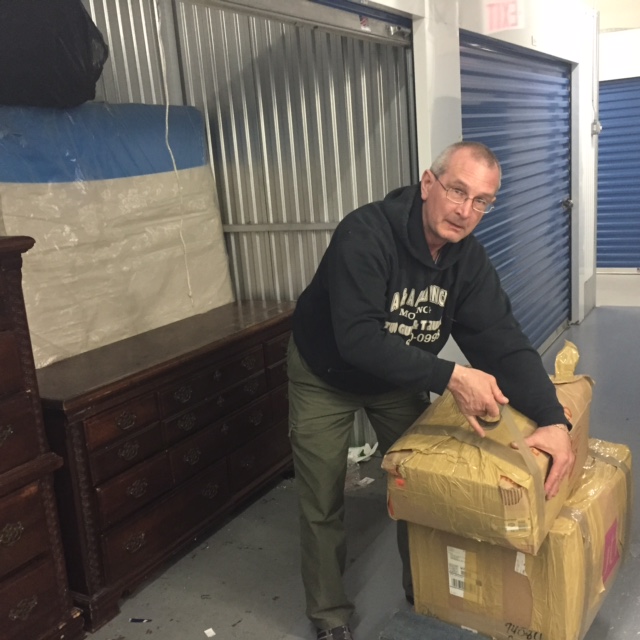 Moving cartons. We recommend you use clean cartons specifically designed for moving. Second-hand boxes obtained from grocery and liquor stores are not always clean and may not withstand the weight of items you'll be putting in them. Their odd sizes also tend to make awkward.
Important: Ask your Moving Consultant about items that cannot be included with your shipment – flammables, varnishes, thinners, propane tanks, kerosene, oil, bottled gas, aerosol cans, nail polish and remover, ammunition, explosives, corrosives and cleaning fluids are some examples.
Tip: Pack heavy items in small boxes – light items in larger ones. Try not to let the weight of any carton exceed 20 – 25 lbs.
When we pack. When you arrange for packing services, a crew will be sent to your home either the day before or the morning of your scheduled loading day (depending on your packing needs). An Alliance moving packing crew is made up of trained, uniformed professionals – experts at protecting all household goods against the rigours of transport. Our packing crews will use only new packing materials – specially designed moving cartons, bubble wrap, stretch wrap, special packing tissues, unprinted newsprint, etc. They may also disassemble large or awkward items for better protection and handling.
When you arrange for unpacking services at the destination, our unpacking crews are equally skilled and professional – reassembling items where necessary and leaving your new home clean, organized and free of packing materials and debris. Important: Before packing medicine and toiletry items, make sure that their caps and lids are tightly secured.
Tip: Designate one drawer of a dresser for a telephone, toiletries, and other essentials for easy access at destination. Drawers can be left full so long as the weight is reasonable and contents are prevented from shifting. Please ensure there are no breakable items in bedroom dressers.
When you pack. If you'll be doing some packing yourself, it's best to spread the job over several weeks prior to moving day. Here are some packing tips: Wrap miniature knick-knacks in brightly colored paper so they won't get mistakenly thrown away with the wrapping paper. Write a general description of contents along with room allocations on the top and front of each carton. Use dot stickers to color-code your cartons. At your new home, you can then hang like-colored balloons over doors to indicate room allocation.
When wrapping, use only unprinted newsprint (available through your Moving Consultant). The ink from regular newspapers can soil your possessions. Personally transport irreplaceable items (financial and legal document, passports, jewelry, precious photos, medical and family history records).
Important: Pack a box of essentials – toilet paper, a telephone, toothpaste and brushes, snacks, coffee and a coffee pot, soap, a flashlight, a screwdriver, pliers, a can-opener, paper plates, cups and ustensils, a couple of pans, and paper towels – so you can get at them quickly when you arrive at your new home.
Plants, computers and electronics. Plants: While plants can often be safely transported, their survival is never a sure bet. Since they can make great parting gifts for neighbours, friends, and family, Alliance moving recommends you consider giving them up (for adoption). If you choose to move them:
Exposing your plants to extra sunlight for several weeks will provides them with the extra energy they need for the trip. Prune back overgrown leaves and branches about a month before moving, and reduce feeding to minimize growth. Never let plant leaves rest against a car or truck window as the leaves will scorch.
Computers & electronics: Be sure to remove all CDs from your CDplayer. Detach paper holders/feeders from printers. "Park" your computer's hard drive (check your PC's User Guide for information) Wrap individual component inside clean plastic bags and pad corners with newsprint or bubble-wrap. Fill packed carton with styrofoam peanuts, seal, and mark (Extremely Fragile). Important: Be sure not to pack your computer disk, CD's, or cassettes near magnets (such as those found in stereo speakers). Tip: If they're available, the original carton and packing materials are best for safeguarding your computer